Training programs for mentally safe, fair and respectful workplace cultures
| | |
| --- | --- |
| Posted on 22 December, 2019 at 21:00 | |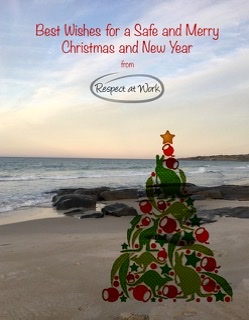 Here we are again, the end of another year and this time we have the bonus optimism of a new decade. 
For many people this is the time for family, friends and celebrations, for others this time represents something very different and for those people I wish compassion and tolerance and send my respect.


As with everything human, this time of the year is full of contradictions; the stress and pressure of creating 'perfect' happy family memories causes impatience, rudeness and lack of respect to service staff and others marching to the same pressures — that doesn't really make much sense.   I was talking to a staff member at my local supermarket and asked her if people are nicer at this time of year, she dramatically rolled her eyes and proceeded to tell me horror stories of impatient shoppers blaming her for any (and every) delay. What is wrong with us that we can treat others in ways that we would never accept for ourselves or for our loved ones?


People appreciate a smile and a few words, no judgement necessary.  Respect translates across cultures, generations and all differences; after all, it takes more energy to judge and disrespect than it does to accept and smile.
I wish everyone a safe and happy end of year and all the very best for 2020 - I'm feeling excited - it's going to be a good year 
Categories: None
/